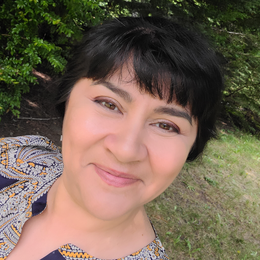 Online for the 2023-2024 School Year
Teacher: Ivonne Heapy
Email: ivhose@yahoo.com
No Longer accepting applications. See you next year!
Class Dates: August 22, 2023 - May 21, 2024

Prerequisites:
The course is designed with the expectation that students have completed the following: 1 year of High school level General Chemistry, 1 year of High school level Biology AND Algebra 1 with a minimum B+ grade. Biology and Algebra are expected to be completed before the start of this course (no exceptions) / Chemistry highly recommended to be completed before but can be completed concurrently (must show proof of registration of concurrent course).
Course Description:
AP Biology is a course designed to be the equivalent of a first-year college level biology course. The emphasis of this course will be on developing an understanding of biological concepts, as well as preparation for the AP Biology College Board Examination. This course has a lecture and lab component. Average time spent on this course is 1-2 hours daily (depending on students' academic preparation for this course)
The student will be encouraged to understand and appreciate the science of biology as a process and to gain personal experience in scientific inquiry that develops their problem solving and critical thinking skills. This course has a high expectation for students through the pace, large amount of content to cover, as well as the time and effort required from the students. This course also covers statistical concepts related to investigative research in Biological Science, so a strong math foundation is highly recommended.
Students are expected to work independently through the use of a weekly pacing guide which includes textbook reading, chapter questions, study packets, AP College Board review question and lab reports. Live Lessons are intended answer questions, go over important concepts and practice test questions.
Canvas will be used to deliver AP Biology content as well as other digital tools, such as Zoom. This is an AP level course, and the teacher will be only one variable the students' academic success in this course. Students will need to come prepared and ready to engage in all Zoom classes, participate in partner activities, join TA hour for group discussions and questions, drop into office hours for extra help and complete assignments on time (asynchronous instruction). The most important part of this course is advocating for your educational needs by asking questions and working with Mrs. Heapy to meet individual goals.
AP Exam Prep: the last few weeks of the course are dedicated to an overall review of the course with focus on AP Biology Exam prep.
Labs:
In addition to textbook work, the lab work covers many AP College Board investigative hands-on labs. Lab content is additional to the lecture component of the course.
The labs include both "wet" labs (deal with chemicals) or "dry" labs (no chemicals and tend to focus on modelling) which is additional to the written work that must be completed weekly. Labs such as Diffusion and Osmosis lab, Photosynthesis Lab, Cellular Respiration Lab are hands on.
**Optional: BASIC LAB KIT with basic essentials can be purchased from the instructor."
Textbook:
The textbook used by AP Biology is also used by college biology majors and the kinds of labs done by AP students are equivalent to those done by college students. There are 8 units covered, each unit covers approximately one chapter a week depending on Unit.
Tests and Quizzes:
There is a test at the end of every unit and online quizzes and assignments via myapclassroom.com (a classroom account for registered students on College Board). This is not a course recommended for students taking other demanding AP courses in other subjects.
Main topics:
Chemistry Review (acid/base reactions, pH, Bronsted/Lowry reactions, polarity, molecular charges, ions) **Student is expected to have a good understanding of these topics before starting the course; these will not be taught in this course**
chemistry of life (macromolecules)
Water Properties (strong understanding of fundamentals of molecular chemistry required)
proteins and enzymes
cells and cell energetics (free energy, laws of thermodynamics, mitosis, cell cycle regulation)
heredity, molecular genetics (meiosis, DNA, mendelian genetics)
evolution (population dynamics)
biotechnology
Biological systems and regulation
Introduction to Statistics as it applies to Biology (standard deviation, confidence intervals, t test) **students are expected to have a good background in Algebra 1**
Experimental Data Analysis (students learn to use statistics to interpret experimental data)
Materials:
1) Textbook: Campbell Biology, AP edition, 12th edition or 11th Edition By Lisa A. Urry, Michael L. Cain, Steven A. Wasserman, Peter V. Minorsky, Jane B. Reece (Pearson, 2021)
2) Computer
3) General Supplies: Binder; graph paper; college-ruled loose leaf lined paper; scissors; highlighters; math calculator; pens or pencils; 1 lab books (100 pages paper book or digital lab book approved by teacher)
4) Lab Materials (Sample of Labs Covered) - for an additional fee of $50 you can purchase a BASIC LAB KIT from the instructor
Course Fee:
1) Course: $750
2) Textbook: ($50-225)
3) Lab Materials: Approximately $80-150 for the year
4) General Supplies (approximately $30)
About the Instructor:
Ivonne Heapy, B.Sc, M.S. Ed., OCT, WA state certified
Ivonne Heapy is certified in both the US and Canada as a Biology and Chemistry high school teacher. She has taught senior level science in Canada, NY state and WA state. Ivonne studied physiology at the University of Toronto, and later worked in research in neurophysiology at the same Canadian university. She has been a certified high school teacher with a variety of experiences in education including working with parent coops and alternative learning programs. Mrs. Heapy is currently teaching freshman Physics and sophomore Chemistry at the local high school, WA state. She has also collaborated with local public school district to pilot an alternative learning program to develop a public community based "microschool". Mrs Heapy has also worked with a local independent school in WA state and focuses on curriculum development and remote learning, as well as teaching in person. Among her additional activities are participating as a long-standing judge for eCYBERMISSION - a web-based science, technology, engineering, and mathematics (STEM) competition for students, and working with the local marine science center on research projects that examine the impact of plankton on local marine life. She was also a homeschool mom of three children. As a homeschool parent she brings a wealth of experience and as an educator she has many years of experience working with homeschool students getting them ready to transition to college level education. She understands the unique dynamics of a students studying remotely and in a homeschool environment.
Additional information:
AP Examination information
The 2023-2024 AP Biology examination will be given in May 2024. Examinees must register by November in order to take the May 2024 examination. Additional information will be given during the year in class.
This course is intended to support all students interested in advanced Biology with a focus on the AP Exam.
For more information contact: Ivonne Heapy at ivonneh@mathscionline.org
Click here to read class reviews for this class (or post your own review)