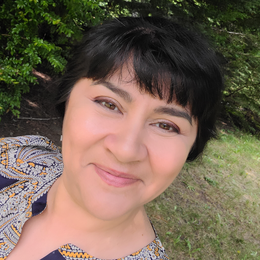 Online for the 2023-2024 School Year
Teacher: Ivonne Heapy
Email: ivhose@yahoo.com
New Honors Biology Course:
Join me every Thursday 8:45-9:45AM EST for a "live" class for Honors Biology!
This lab-based course covers the foundational principles of modern life focusing on molecular processes. Course content will include the studies of biochemistry, cellular processes, genetics, evolution, and ecology. Technological, historical, political, and environmental aspects of biology will also be addressed. Content learned in a physical science course is built upon and expanded on in a biological context.
Click HERE
for application
to Register
How is it different from AP Biology?
Course is intended for middle to high school level students with an eagerness to learn about the fundamentals of biology that AP Biology will build upon. This course curriculum follows NGSS standards which is the standards recommended for all science courses across the USA. Exploring the topics at a rigorous level and focusing on projects, understanding science processes, inquiry into solutions to world problems and using engineer related topics as they apply to the biological sciences. Using some graphing and learning basics in data analysis will also be covered, so confidence in math would be beneficial.
Course Outline:
Classes require regular chapter reading and lab style assignments to interact with the topics. Students must be organized and stay on track with lessons to get the most of the lessons. Labs are hands on and virtual.. Students will be provided with pre recorded videos to support the reading and assignments. Lessons will be based on an online textbook. Live class will be used to go over the weekly material and answer questions. The course offers creative assignments, labs and encourages collaboration for projects. Attendance is highly encouraged but recordings of live lessons will be available. Students are graded on projects and labs. Worksheets are offered throughout the unit to support the learning.
Prerequisites:
High achieving grade 9+ students with prealgebra and or equivalent grade 8 Math.
Grading:
Students will be graded on worksheets, labs, projects and unit tests.
Topics Include:
Ecosystems & Biodiversity

"How do ecosystems respond to change and disturbances?"

Classification

Prokaryotes & Bacteria

Biomes

Population Dynamics

Energy Flow through systems

Students examining the impact of human activity, interaction of various factors

Explore local and global ecosystems

Biomolecules

"How are molecules made and used in the cell?"

Basic Biochemistry

Building Blocks of Life

Students explore enzymes, DNA and the organic compounds that make up carbon based molecules

Examine systems in the human body such as circulation and absorption

Cells to Organisms

"How are cells organized into organisms?"

Levels of Biological Organization

Cell Structure

Photosynthesis & Cellular Respiration

Students investigations of homeostasis and cell division (mitosis)

Examine cellular processes

Composition of organisms at the cellular level

Genomics

"How do genes interact with the environment to determine traits in a population?"

Students investigate meiosis, DNA structure, genetic variation and population traits

DNA Structure, DNA Replication, RNA Transcription and Translation

Learn the principles of Genetics

Evolution

"How do populations change over time?"

Population Genetics

Phylogenetic Trees

Students examine heritable traits and factors affecting population traits determined by genetics

Carbon Cycle

"How can a model of the carbon cycle be constructed?"

Students create a model of the carbon cycle while exploring the role in photosynthesis and cellular respiration

Ecological Matter & Energy

"How does energy flow and matter cycle?"

Energy

Biochemical Cycles

Students examine the impact of human activity, technology, models of sustainability.

Labs & Projects

each section has a lab and / or project that are virtual, hands on or take students outside to explore their local environment and relate it to biological concepts
Tuition:
Price: $660
Course Materials:
Online Openstax Textbook (free)
Biology Kit (TBD approx. $30 per family)
Microscope (to be purchased by student)
Ability to print worksheets and access household supplies for creative projects.
Subscription to Online Virtual Labs (TBD approx. $50 per family)
Class Commitment: 8-10 hours per week
"Live" class to be held once a week for 60 minutes.
For more information contact Mrs Heapy at ivhose@yahoo.com
Click here to read class reviews for this class (or post your own review)